Work From Anywhere, On Any Device with UCaaS
Meet TelCom USA
Our All in One Platform
Cloud Communications | Contact Center | Video Collaboration
Work From Anywhere, On Any Device with UCaaS
TelCom UC offers comprehensive UCaaS (Unified Communications as a Service) functionality by combining a feature-rich UC client and fully integrated mobile app. Unified Communications gives companies access to the collaboration tools they need to stay connected from anywhere in the world using devices that keep them productive on the go.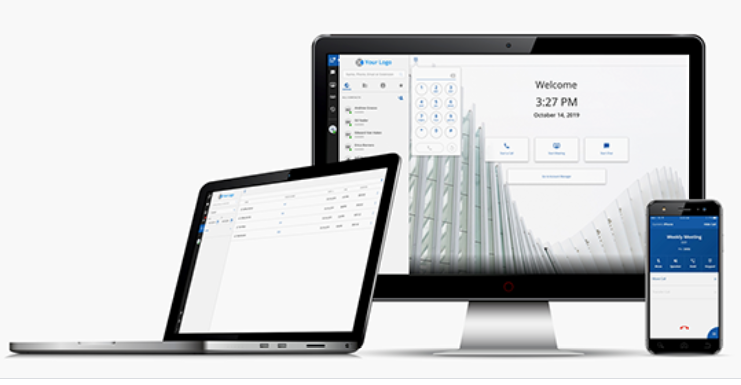 Unified Communications (UC) is the seamless integration of voice, presence, chat, data, applications, and other technologies that help drastically improve your communication processes and business productivity. Our software and services enable you to access your account and seamlessly incorporate our high-value cloud communication services.
UC Client makes your communication simpler and your collaboration more productive. It provides you with audio and video calling, instant messaging, meetings/video chat, history, and voicemail without switching between devices, apps, and screens. TelCom UC Client allows you to make and take calls without being tied to your desk phone, to chat (one-to-one or one-to-many), and meet with or see each other's faces with the click of a button—all this without using multiple tools or programs. Any business with modern communications needs can benefit from UC Client, from highly virtualized organizations, companies with multiple locations, to those with remote or mobile workers. TelCom UC Client empowers businesses by making it easy, pleasant and efficient for them to communicate how they want and where they want.
TelCom USA all in one integrated voice, video, messaging & collaboration solution
Free video solution when bundled with a voice seat
TelCom USA is a fully-loaded cloud communications platform that combines high-quality voice & video with: a built-in softphone for making and taking calls and a long list of calling features, HD-video conferencing, messaging (Chat & SMS), meetings, virtual rooms and an impressive menu of stand-out collaboration features only found at TelCom USA. Beyond proven feature parity and unmatched price: value. TelCom USA easily surpasses alternatives with features designed to unleash the power of the
modern workforce.

Voice over Internet Protocol (VoIP), is a technology that allows you to make voice calls using a broadband internet connection instead of a regular (or analog) phone line. VoIP services convert your voice into a digital signal that travels over the internet, the signal is converted to a regular telephone signal before it reaches the destination.
A hosted PBX (Private Branch Exchange) is a telephone switching system that's accessible over a network in the cloud. A hosted PBX shifts your phone and communications infrastructure over to a trusted VoIP provider. Hosted PBX transforms business communications and improves productivity without purchasing expensive, complex phone system software and hardware.
Hosted PBX & VoIP offer a high-quality, scalable alternative to premise-based phone systems, with the advanced calling features employees need.
A Hosted PBX is a cloud-based, virtual PBX phone system that delivers secure, reliable phone service for a business or organization through your Internet connection

Key Benefits of a Mobile App
Never Miss an Important Business Call
Clients and work associates can easily reach busy employees anytime through one business number that will automatically ring their mobile app.
Eliminates the necessity to track down employees on multiple numbers. The Mobile App improves and streamlines communications, seamlessly connecting a distributed and fast-moving workforce.
Gain the latest communication tools for staff to never miss a business opportunity.
Leverage an Investment Already Made
You've already invested in a phone system for your business, right? Extend all the benefits you've already made by making the same features available through your mobile phone.
Not only can employees make and receive calls placed to their corporate phone number via their mobile device, they can leverage key communication features.
You want to ensure business calls are always routed to your business versus an individual's mobile number who may or may not stay with you long-term. By having calls directed right to an employee's smartphone without revealing any of their personal information, you protect your business.
The Mobile App also makes it easier and more flexible for "bring your own device" (BYOD) work environments.
Ability to use cellular or Wi-Fi networks
Extension dialing to coworkers via your smartphone
Voicemail includes playback and forward to coworkers via email
Corporate and personal phone directories at your fingertips
Access to company international dialing plan
One click to join conference calls
One button click to reply to missed calls
"Do Not Disturb" on all work devices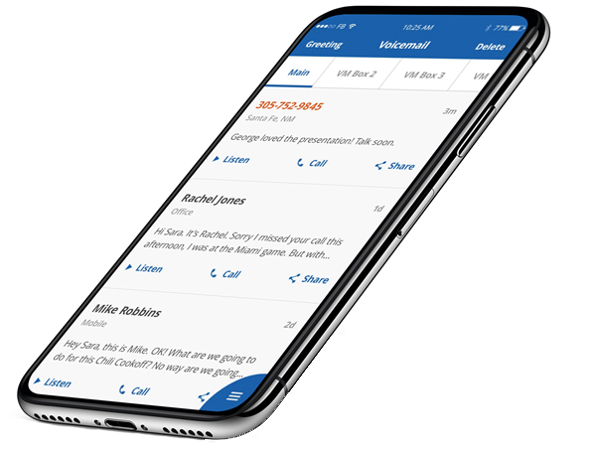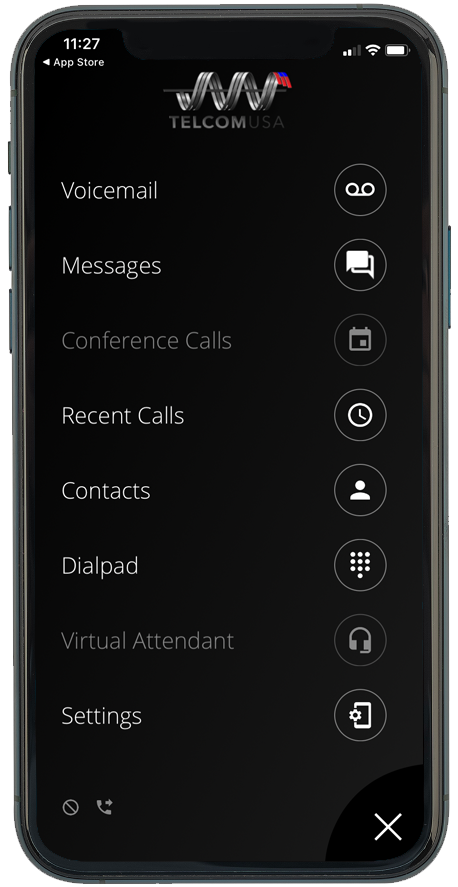 Voicemail Greetings and messages
One click to join conference calls
Incoming and outgoing calls
Integrated with iPhone, business and local contacts
Keypad for VoIP client dialing
Virtual Attendant settings
WiFi/data network settings
Do Not Disturb (DND) Indicator
Thanks to the lack of hardware, installation, and set-up, the implementation of a cloud-based solution is much less disruptive than a standard upgrade of an on-premise system.
Frequently asked Questions and Concerns
With a cloud-based solution, all of the infrastructure costs are taken care of, and scaling can be done on-demand, for a fraction of the cost of scaling with an on-premise system.
Hosted PBX isn't reliable.
When implemented properly, a hosted PBX solution is more reliable than a premise-based solution, as it can scale to meet your business's evolving needs, and provides benefits that traditional phone systems cannot match. Hosted PBX also reduces the capital expenditure of a new phone system, safeguarding it against technological obsolescence, broadband failures, and natural disasters.
Is Hosted PBX as feature-rich as traditional PBX systems?
Yes, our cloud-based phone systems include features most organizations couldn't afford with their existing phone system. You now have the ability to manage these great features via our easy-to-use browser-based interface, with no expertise needed. You'll be able to access carrier-class scalability, and API-extensible apps such as salesforce.com or Outlook, providing you with a simple solution for all your communication needs.
I can't afford to move to a new system. (or, I've already invested in one year ago.)
Our Unified Communication platform doesn't require large, upfront investments like a traditional phone system. Switching will reduce your operator costs upfront and overtime. That means your expenses are actually reduced. Our platform is continually updated to provide your business with new, enhanced capabilities and features—ensuring your business is on the cutting edge and up-to-date.
Which carrier does the platform utilize?
The benefit of our cloud-based PBX platform is that you'll never have to deal with a traditional, long-distance carrier again. We manage all carrier connectivity in the cloud, with 'cross-connects' directly to the PSTN. Our platform includes connectivity to multiple carriers for redundancy purposes, so no single carrier issue will impact your business. Our carriers are carefully chosen and monitored closely for reliability and costs to ensure your potential for success and profitability remains second to none.